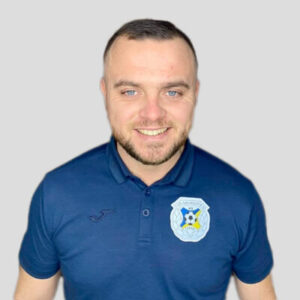 Licensed Uefa A coach Football coach with several years of experience in training children and youth. He completed coaching internships in many Polish clubs, in the Ukrainian league team Zoria Ługańsk and in the Ukrainian team of the second level of the competition FC Polissyi Zhytomyr. Multiple representative of Poland for Juniors in the u15-u19 category. Co-founder and football coach of UKS Okęcie, organizer of many sports tournaments, camps and day camps.
He led children's and youth teams from the youngest level of football education through all age groups. However, the favorite is to work with partially shaped, conscious players who know what they want to achieve and are committed to the training process. He was the coach of the first senior team of RKS Okęcie Sports Club and he was the author of its promotion to the 4th league. He took care of the implementation of certification requirements in the training process. Currently, he has taken the position of the first coach of the Ożarowianka Ożarów Sports Club senior team. The Youth Team, he leads, at the Ożarowianka Academy within a year advanced under his leadership from the 3rd district league to the 1st district league of the Masovian Football Association.
Professionalism, passion and patience. Master of motivation. He sticks his wings to young people, mobilizes them to achieve success, and at the same time teaches them how to deal with failures and does not let them give up. He pays a lot of attention to the mental sphere of the players, that the players feel good in the team and the integration of the team. He uses an individual approach to each player, he can flawlessly choose the right positions for players on the pitch. He sees the players not what they represent at the moment, but what they will become when he compensates for their shortcomings with his training. Pedantically selects training measures for the individual needs of players, explains how to perform the exercises in the best way. He cares for, educates and educates the players. She is a model of commitment. He enjoys a great charisma among his pupils.
I met coach Biechoński a long time ago and I remember how today I was invited to the tournament with RKS Okęcie, where coach Biechoński was the coach. What I liked about the trainer immediately was the charisma that immediately appealed to me, and I "fell in love" with it, however it sounds. When it comes to further cooperation, I really liked the relationship between the coach and the players, because in the youth or senior groups he had a great relationship with virtually every player. In trainings with the trainer, I appreciate the fact that he can prepare the training for the team's capabilities, he can program the exercise and I always got a lot of hints on how I can do the exercise best, especially when I was a junior. I have always liked the fact that for coach Biechoński the most important thing was the individual development of the player and he did not make a problem when another club wanted to find a player, if this club was a good place for development.
Well, to say about coach Biechoński that he is a coach by calling is like saying nothing. First of all, he is a great person with a very large approach to kids, which is not obvious even among the coaches of our youngsters, although it would seem that it is the so-called "must have", as the youth used to say now …. Developing the coaching thread, you have to give Mr. Piotr a great skill in "extracting" what is best in the player. Perhaps it is a field intuition, as we know coach Biechoński is a great representative of our team and perhaps it is the result of the former, plus skilful cooperation on the line, a coach-player. If someone would like to see what the training of youngsters should look like with a real commitment of the coach, he must necessarily see the training performed by P. Piotr. Summing up, if someone is looking for a coach who will help to bring out the potential of your kids, it should be taken into account by Piotr Biechoński !!!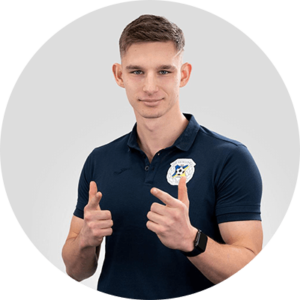 Motor preparation coach, football Coach
Eryk is studying at the Higher School education in Sport. Licensed Uefa C Coach.
He works as a motor preparation coach at the Ożarowianka Ożarów Sports Club, where he develops the skills of academy players aged u8 – u15 and seniors. He founded and runs the academy "Training Academy – the way to professionalism", within which he conducts individual and group trainings. He is a personal trainer at the gym and conducts rehabilitation for children, adolescents and adults.
He plays professional 6-a-side football. With FC Gorlicka he won the title of vice-champion of the Polish, 3rd place in the Polish Cup, Warsaw Championship. In 2021, he was rated as the 4th player in Poland. He is a candidate to represent Polish at the World Cup in Mexico.

He plays in the senior team of KS Ożarowianka Ożarów, trains boxing and MMA. It is characterized by a professional approach to work. It uses modern methods to improve the condition, coordination, strength and mobility of joints in children. Implements the recommendations of physiotherapists. He can adjust the training loads to the players, trains players after injuries by properly selecting exercises to their current capabilities. He does not allow his pupils to give up, he mobilizes and motivates them.
As an athlete, he is a model for young athletes leading a sporty lifestyle: following a diet and paying attention to the regeneration of the body.
He completed courses:
comprehensive warm-up

Individual motor training (u8-u12)

Games and Activities with fastening
GPS Academy, Strength Entry Level

Strength advanced level

Endurance
Power and speed

Strength and motor evaluation

Planning and monitoring in BetterWay Training Studio
Wiktor wants to become a footballer and needs ambitious, high-intensity training. Trainings with coach Eryk meet these expectations and are properly selected in terms of intensity. At the same time, I can fully trust the trainer that the loads will not be too heavy and the appropriate time will be spent on preventing injuries. The effects of the training sessions can be seen in the son's progress.
For my son, training with Eryk is a must-have in his weekly schedule. It was Eryk who instilled in his son healthy eating habits, but also an interest in other sports, including general development. For his son, Eryk is above all a coach he can always count on. At one of the league matches, a coach appeared unexpectedly. He watched his son play, but also gave him valuable tips. After the game, I found out that my son asked the coach to come over before the game, because it was an important match for him. Eryk took his private time and came, which was important for his son, which impressed me very much. I know that the time spent on training or camps with Eryk is primarily football development, but also fun.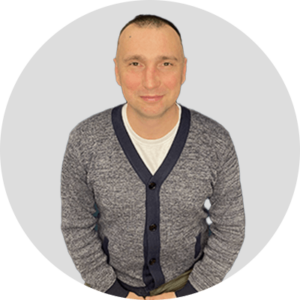 Marcin has always been involved in football. Until 2021, the Vice-President of the RKS "Okęcie" Sports Club responsible for sports matters. He coordinated the work of coaches, organized sports camps, training camps, stationary football camps for children and youth, training camps for seniors. He raised funds for the Club's activities, supervised cooperation with service providers, took care of ensuring good training conditions for players. Under his leadership, RKS Okęcie obtained PZPN certification. 
Patient in his actions, he is always able to find a compromise solution that satisfies all stakeholders. Demanding in the selection of co-workers, he works only with the best. In times of pandemic, it aims to prevent quarantines and isolations from ruining the development opportunities of talented young footballers. For this reason, it creates optimal conditions for players to train, provides well-equipped accommodation and training facilities, gives the opportunity to develop talents under the supervision of charismatic trainers and creates a safe environment for development. The work of coaches with players takes place in small groups so that they have the opportunity to get to know the potential of players in the best possible way, strengthen their strengths and eliminate weaknesses
Collaborators about Marcin:
Cooperation with President Romanowicz is fruitful and pleasant. Organizational matters are fastened to the last button. Answers questions and solves engagement issues regardless of days off and working hours. Players always come back from his camps satisfied and satisfied. I highly recommend the Training Camp Center.
Cooperation with President Romanowicz in the organization of the camp for my team was exemplary. I did not have to deal with formalities, contacts with the center and insurer, I had all the information for my parents prepared. I could focus on substantive work: preparing the best training resources and developing my team's players.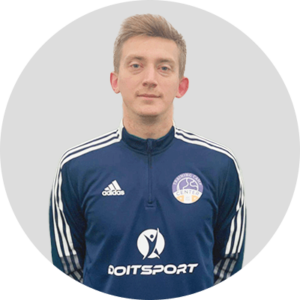 A coach with a rich football past. He played for the 1st and 2nd league of Belarus: FC Belcard Grodno and FC Lida and the Belarusian Premier League club FC Nemam Grodno. He plays in the position of central defender or central midfielder.
He specializes in individual technique, tactics and match analysis. He shares his knowledge and experience to help young players reach a higher level of their skills. He confirms his skills by applying for a Uefa B license.
As a youth coach, he is always calm and patient, he does not raise his voice, and yet the players respect him for his football achievements and listen diligently. He tries to instill in young players the ethos of hard work on themselves, find an individual way of working with the player, thanks to which training will be more effective. He pays a lot of attention to the mental sphere of the player, builds confidence in the players. It analyzes tactical elements, explains why players make technical mistakes, analyzes the physical condition of players and selects training measures according to the needs. He uses unusual training measures that young players like very much. He loves working with children and young people, observing their enthusiasm and commitment, and the players in return have great trust in him.
Parents and players about Yury:
Coach Yury perfectly explains the game and exercises. He is nice and sympathetic, always smiling. He plays great football. He does cool, unusual exercises for a specific position of the player. I really liked finishing the action with my head.
Coach Yury is undoubtedly very helpful. He has a lot of experience and shares it with the players. In addition, he is always nice and never raises his voice.